Postcard: Living Outdoors, One Man's Story
Along the Truckee River, you may spot tents set up by people experiencing homelessness in Reno. One of them is Brandon, a musician in his thirties who has been homeless for a year and recently set up camp. He's originally from Colorado Springs but has been in Reno for 20 years. In this audio postcard, Brandon talks about relying on his guitar and bargaining to make a living.
Brandon hasn't always been this confident. He struggles with social anxiety and at one point faced stage fright. Now, he doesn't shy away from strumming his old, rusted-yellow acoustic guitar for pedestrians walking by.
Along with the guitar, he doesn't lose sight of his other belongings, like the digital camera that hangs from his neck. Recently, he bought a tent but that didn't make things easier.
"It's definitely different than normal life, what you would consider normal life," he said. "It's a lot harder. I've had four bicycles stolen in the past seven months and backpacks. You can't have an actual friendship... they pretend to be but then they steal your stuff."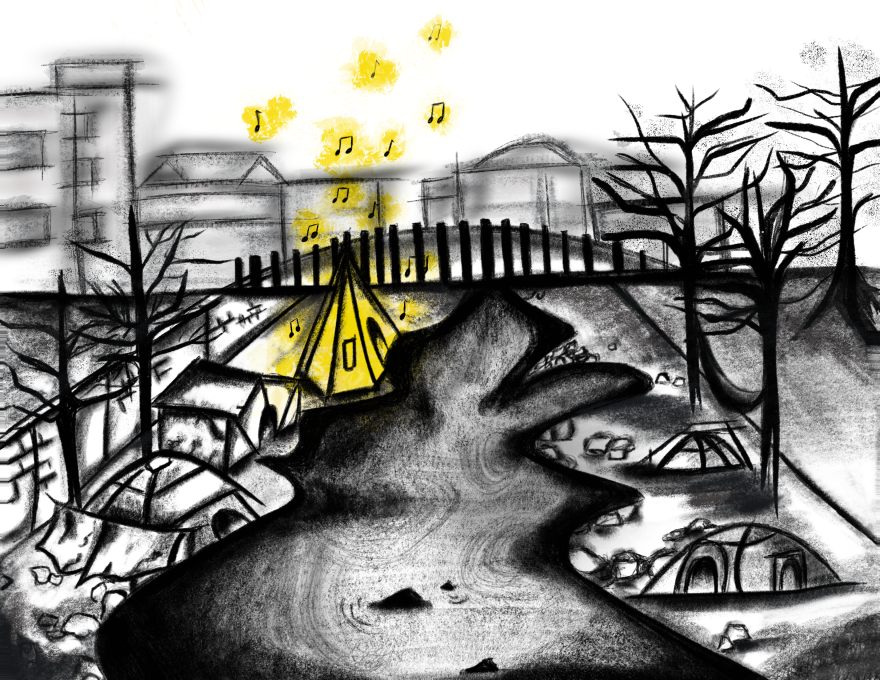 After a year of living outdoors and experiencing theft multiple times, Brandon says his concerns for the downtown community are growing.
"It's progressively getting worse," he said. "Drugs are worse and it seems like people's demeanor and morals are getting worse. No one has common courtesy or respect for anyone else but themselves; just selfish."
With winter and snowy days in full swing, Brandon says the nights are unbearable, but he will continue to play his guitar and share a coat when possible.