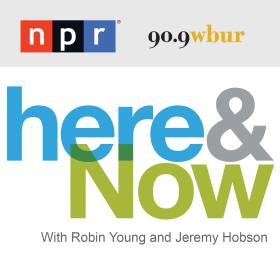 Weekdays, 9-11 a.m. on KUNR
A live production of NPR and WBUR, in collaboration with public radio stations across the country, Here & Now reflects the fluid world of news as it's happening in the middle of the day — with timely, smart and in-depth news, interviews and conversation.
The show's daily lineup includes interviews with newsmakers, NPR reporters and contributors, plus innovators, authors and artists from across the U.S. and around the globe.
Beginning in 1960, the late Chris Strachwitz traveled the country recording musicians who he presented on his label Arhoolie Records.

The State Department put visa restrictions on individuals who may have been connected to undermining peace, security or stability in the West Bank.

The Pudding takes a look at 1,400 romance novels from 2011 to 2023 to see how things have shifted.

A new study shows that these wild birds somehow learn the distinct calls used by human honey foragers in different countries to indicate that they'd like to partner up on a honey-seeking mission.

Emma Stone teams up with director Yorgos Lanthimos for "Poor Things."

The U.S. State Department has been sending American musicians abroad as cultural ambassadors since the 1950s.

Lear died this week at 101.

After a contested election in Pennsylvania, control of a local school board has flipped from a Republican majority to a Democratic one.

If you're a person who thought surely there's only one NBA tournament per season, this year you thought wrong.

As part of the Reverse Course series, Here & Now's Peter O'Dowd and Chris Bentley traveled the country to see how scientists and business leaders are trying to lock away planet-warming carbon that's already in the atmosphere.