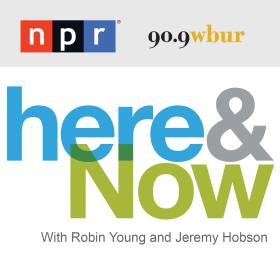 Weekdays, 9-11 a.m. on KUNR
A live production of NPR and WBUR, in collaboration with public radio stations across the country, Here & Now reflects the fluid world of news as it's happening in the middle of the day — with timely, smart and in-depth news, interviews and conversation.
The show's daily lineup includes interviews with newsmakers, NPR reporters and contributors, plus innovators, authors and artists from across the U.S. and around the globe.
Activision Blizzard gaming has faced sex abuse lawsuits and controversies for years.

It's a move that surprised many.

The conflict has taken a severe toll on the global economy, energy prices and beyond.

Public transit systems continued to face difficulty as they try to get riders back on board after a pandemic-induced drop in use.

The story tells the sordid and tragic tale of Sweeney Todd, who returns home after being falsely imprisoned.

The Justice Department is looking into former President Trump's handling of classified documents.

The court also released another big decision over whether Medicaid patients can sue over poor treatment.

A new report says China is increasingly using exit bans to keep people from leaving the country.

In 2017, philanthropist Agnes Gund sold a $165-million dollar painting to create a fund to support formerly incarcerated artists. "No Justice Without Love" celebrates the grantee-artists.

In "The Power of One," Haugen shares the moments of her life that gave her the strength — including the tragic death of her childhood best friend and a debilitating illness that left her temporarily unable to work or walk.