Performing Poetry Pushes Teens Beyond Their Comfort Zones
Teenagers hoping to clinch the title of state champion for the Poetry Out Loud program gathered last weekend at a competition in Reno. Our reporter Holly Hutchings was there and has the story.
Nine high school students take turns standing on stage at the KNPB studios in near darkness, illuminated only by a few lights aimed in their direction. They take their mark, facing rows of family members, strangers, and two tables of judges. Then, they deliver their words, some written hundreds of years ago.
Grey Hunt of Yerington High School is now a four-time winner and will head DC next month for nationals.
Other participants like Sophia Peterson, a junior at Carson High School, have also worked hard to get this far. She is well versed in speaking on a large stage because she represented her school in a national debate competition this year. But, for her, this event is different.
"Well, I really think the beauty of poetry is really the way the words move," Peterson said. "And I think really becoming familiar with those words, like 'palpable,' the way it moves across your tongue. That really just helps you get kind of in the zone because you are just so familiar with the way the words were meant to be spoken."
Through the process of learning the poems, Sophia discovered that each one has multiple meanings. She says she has a true appreciation for the author's words and intention.
"There's a lot of imagery in poetry, and I feel like you can find an image even if it's something obscure, like the tombstone of my dead child," she said. "I've never experienced that but I can see it from, kind of my own experiences of like, losing a loved one or a loved pet and I can also inject myself in those poems that way."
Junior Dexter Yago from Storey County first won his local competition at Virginia City High School two years ago as a freshman.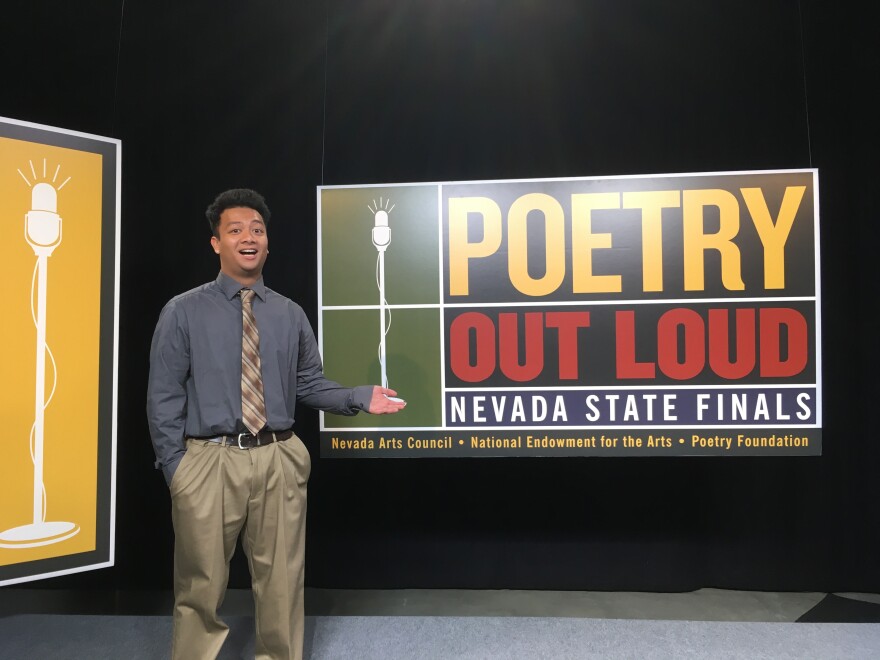 Just five years ago, Dexter moved to the United States from the Philippines.
"During my first years here it was kind of hard to fit in because it's a different culture and a different people," he said. "But this type of event helps me see how to adapt and how to overcome such things."
He credits one of the poems he learned with helping him see how to push through discomfort and be in control of his new life.
"My second poem is Invictus, which is written as like a motivational one, for when times get rough," he said. "And there are certain things in life where we are kind of stuck and that poem kind of has a deeper meaning than what's written."
"It matters not how strait the gate, How charged with punishments the scroll, I am the master of my fate, I am the captain of my soul."
-From Invictus. William Ernest Henley wrote the poem in 1875.
All nine competitors performed their poems for the first two rounds, followed by the judge's difficult task of choosing a winner. Dexter and Sophia were not named finalists, but as juniors they might come back again next year. For them, it's about more than the win. They've pushed themselves beyond their comfort zones and have learned skills not taught in a typical classroom.
Holly Hutchings is a senior at the Reynolds School of Journalism.
As a note of disclosure, Poetry Out Loud is a program of the Nevada Arts Council, which is an underwriting sponsor of this station.