For our series Taking Back History, Reno Public Radio explores how the Reno-Sparks Indian Colony is reclaiming its roots, including local efforts to revitalize native languages, capture oral histories, and embrace other traditional art forms like carving ceremonial pipes and participating in powwows. We also have the latest update on what's being done to preserve the site of the Stewart Indian School in Carson City. Early on, the school's mission was to assimilate Native American children by stripping them of their heritage. Students were forbidden from speaking their native languages or practicing other traditions like growing out their hair or participating in sacred ceremonies. The long-term consequences of assimilation are still felt today. Very few members of the Reno-Sparks Indian Colony are fluent in the Great Basin languages of Washoe, Shoshone, and Paiute because their parents and grandparents were too ashamed or afraid to teach them. Despite all that has been lost or silenced, the colony is making strides to capture and teach what it can for the benefit of the next generation, so they know where they come from.
Stewart Indian School: Remembering The Good And Bad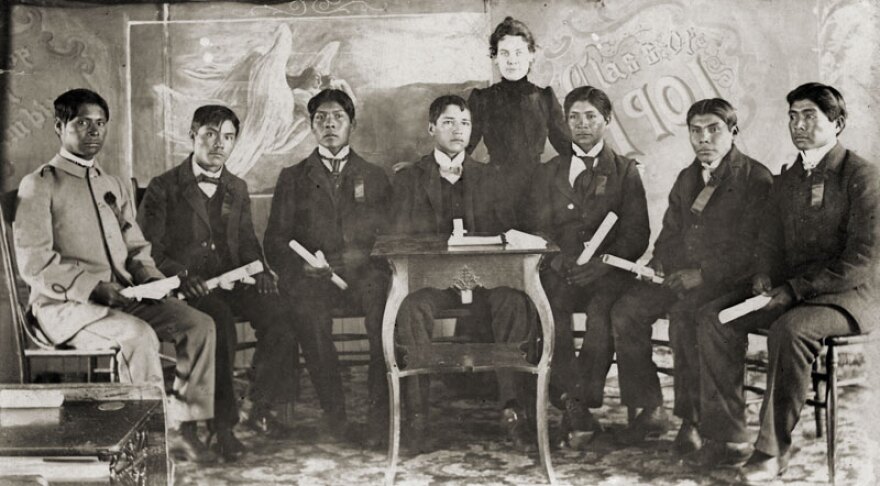 Sherry Rupert heads the Nevada Indian Commission and has been working for the past decade to preserve the site of the Stewart Indian School in Carson City. Thanks to some of the laws passed during this recent legislative session, the project is now getting support and funding. To tell us more about the school and its history, Rupert spoke to Reno Public Radio's Michelle Bliss.
sherry_rupert_int_for_am_pm_final.mp3
You can also check out this shorter version of our talk with Sherry Rupert.
The school closed its doors back in 1980, and alumni have a range of memories and feelings about their time there. Some students are thankful for the vocational training they received, but early on, the school's mission was to assimilate Native American children.
"When the students arrived at these schools, they were really stripped of anything and everything that made them Indian," Rupert says. "Their traditional items were taken. They were no longer able to speak their native languages."
During the interview, we also hear from Florence Millet who attended the school more than sixty years ago. She recounts her repeated attempts to run away from the school:
"There would be a few us; we just ran through the brushes. We didn't know how far we lived, we were just running. That's how much we hated it."
Despite the school's dark beginnings, Sherry Rupert says it's critical to preserve the site's history, both the good and bad.
"It's a history that is not widely known and not widely taught," Rupert says, "and we need to bring that to the forefront and teach people about these things because it's a part of who we are."
Recently passed legislation will support that effort by creating a gift fund and selling some state-owned land to help pay for the project, which Rupert describes as a cultural heritage destination that will allow visitors to vividly experience what life was like for the students at Stewart.
"I envision somebody coming and being checked into a dorm by a dorm matron," Rupert explains, "and at some point, being marched off to the dining hall and the auditorium to take in a play or a movie in the evening."
Rupert also wants to see the site designated as a national landmark.
"Now, we know that that doesn't guarantee additional funds for the school," she says, "but it does kind of bring it up a notch to a different level."
Additional funding has also been secured for creating a docent program as well as archival exhibits for a cultural center.