Reno Mourns For Las Vegas
Mourners gathered in downtown Reno, Monday night to hold a vigil for the 59 people killed and more than 500 injured during Sunday's mass shooting in Las Vegas. Reno Public Radio's Paul Boger has this report.
On the edge of the Truckee River in downtown Reno, a bell tolled during a moment of silence as part of a candlelight vigil to honor the victims of Sunday night's mass shooting in Las Vegas.
Using a megaphone, Sean Savoy with the Nevada Interfaith Coalition for Equity told the attendees that the vigil was a healing space – a safe place for people to grieve in peace.
"We are honoring that oasis in the desert, a city named for its ability to support life in an unforgiving environment," Savoy said. "And so, too, will Las Vegas live on after this dark night to shine once again with life and a welcoming embrace for all who enter her borders."
In all, nearly 200 people gathered for the event. Some cried, others remained silent, but nearly everyone held a small candle.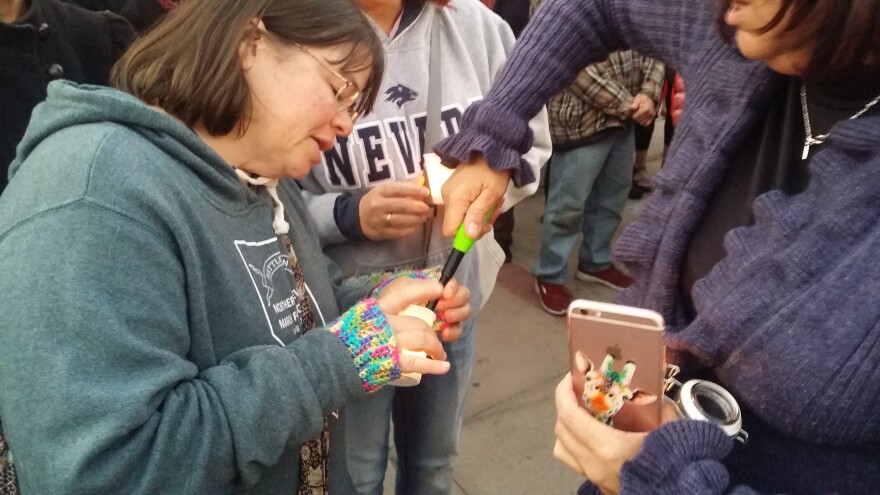 Joanna Joseph is a senior at the University of Nevada, Reno who grew up in Las Vegas. She said the vigil was a way for her to be closer to her friends and family who are also trying to comprehend the killings.
"I think this is something really, really, really important. I guess it connects Reno and Vegas in a way," she said. "We're two large communities but today we were just one large community; we were united for one thing, one purpose."
However, for some, the vigil was an opportunity to rally support for tougher gun laws. Chip Evans, a former Democratic nominee for Congress and progressive talk show host, told those in attendance that Nevada's loose gun laws were at least partially to blame.
"When dozens of people are killed and hundreds are shot in Las Vegas, we mourn," Evans said. "But let's commit right here and right now to not fully move on until we effectively address gun violence."
Some felt it was still too soon to try and tackle the political fallout surrounding Sunday night's shooting. State Senator Julia Ratti, a Democrat from Sparks, says she plans to look at Nevada's gun laws in the future, but right now is a time for grieving.
"I think today is a day to focus on reaching out to everyone who needs support, and that does not cut down party lines; that does not cut down on how you believe about a certain policy. Our nation is hurting, so I think the focus today is on that. We're all well aware that there are policy issues that need to be addressed, but I think those are conversations for the next few days. Today, we need to make sure that we're taking care of each other.
Yet, for Reverend Larry Holloway of Bethel African Methodist Episcopal Church in Sparks, faith in God may be the only solace in light of the tragic events.
"We need to pray, pray for the victims and pray for this country. And when I say victims, I'm talking about not only those who lost their lives, but those who were wounded, and those who will never be the same because they were there, in that place at that time, and saw what happened," Holloway explained. "Those are horrific events that have an untold effect on a person going forward."
There will also be a candlelight vigil Tuesday night at 7 p.m. in front of the Joe Crowley Student Union at UNR.